Fun Crafts to Get You in the Fall Spirit
Fall is a great time of year for crafting! Try these DIY craft ideas to add some festive fall fun to your home, or give them away as gifts.
Pumpkin Vase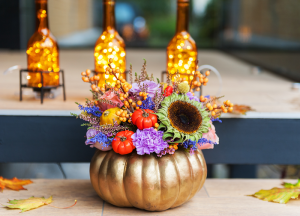 Dress up your front porch, mantle, or dining room table with this fun, seasonal flower vase. Simply carve out the inside of your pumpkin, then use a multi-surface acrylic craft paint or all-in-one primer/spray paint on the outside to add a stunning metallic finish. Take a Mason jar or a water bottle with the top cut off and drop it inside the pumpkin to act as a vase. Fill the vase with seasonal autumn flowers like mums or dahlias, and don't forget to add some sprigs of eucalyptus, faux berries, fall leaves, and miniature gourds or apples for the perfect fall touch!
Country Wreath with Fall Fruit and Leaves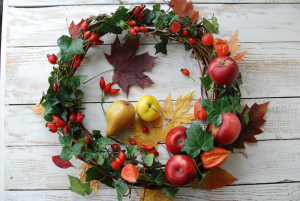 A homemade wreath with lots of red apples and yellow pears adds a touch of pretty fall color to your door. Purchase a grapevine wreath and as many pieces of faux apples and pears as you'd like from your local craft or department store. You may also want to buy faux greenery like ivy leaves or eucalyptus, berries, and some faux fall leaves in a variety of shapes and colors.
Begin by securing the fruit to the wreath with a generous amount of glue from a hot glue gun. Gluing the fruit to each other adds an extra layer of stability. Fill in the spaces between the fruit with your greenery, berries, and leaves, gluing each piece to the wreath with the glue gun. If you're feeling extra creative, you can add a big, homemade bow!
Mason Jar Luminaries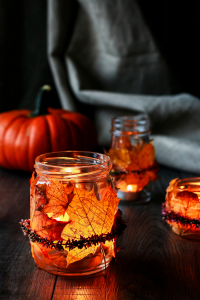 This is a fun and easy way to light up your home for the fall holiday season. Take a clean Mason jar and some pretty fall leaves. You can use real or fake leaves; however, fabric leaves tend to work the best. Start by painting a thin layer of Mod Podge decoupage glue on the jar. Let it dry until tacky, then affix a leaf. Paint more Mod Podge on top of the leaf in thin layers, making sure to smooth out the edges. Repeat the process until you have as many leaves on the jar as you'd like. Once dry, drop a tea light inside for a warm, welcoming glow!
Did you know that craft-related activities do more than make your house look festive? Studies show that crafting helps lower stress levels, increase self-esteem, and keep our brains active and healthy. We offer several different crafting classes at Grand Oaks of Okeechobee for our residents to enjoy. For more information, call 863-692-7222 today.